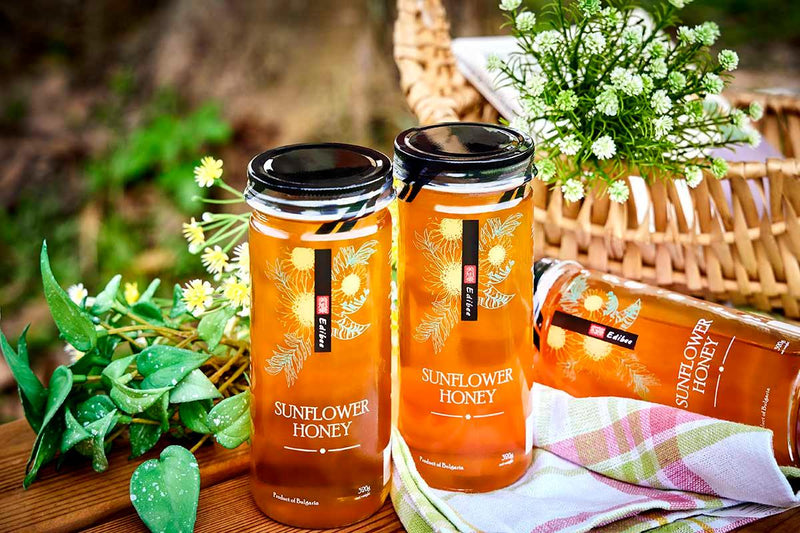 About This Product:
Sunflower honey is a godsend especially for the elderly or the vulnerable in health. Antimicrobial by nature, they are collected during honeybees' most active period, when sunflowers are at their best state. The most notable thing about this type of honey is its purity – no nasties (harmful substances or pollutants) make their way into the final dollop of honey as they are effectively siphoned into the plants' stem.
Apitherapy recommends it for stomach-intestine conditions, lung and kidney diseases, and especially for diseases of the heart and blood vessels. It is also recommended for all heart patients that need rest and additional energy (also used by its mental tonic properties), and children during their development (stimulates the immune system).
Characteristics: 
Price range: mid, mid-high, high, exclusive
Colour: light (bright yellow of a medium intensity)
Crystallization: very quick (hard crystallization, because of its high glucose content)
Taste: floral (fresh, warm and vegetal, not that intense)
Most suitable for:

 

Daily use; recommended for older people, children and for people with heart diseases
Storage Information:
Store in a cool and dry place away from direct sunlight or heat. Not recommended for infants under the age of 12 months.
Ingredients:
100% Pure Lavender Honey. Free from any preservatives, artificial flavouring and colouring.