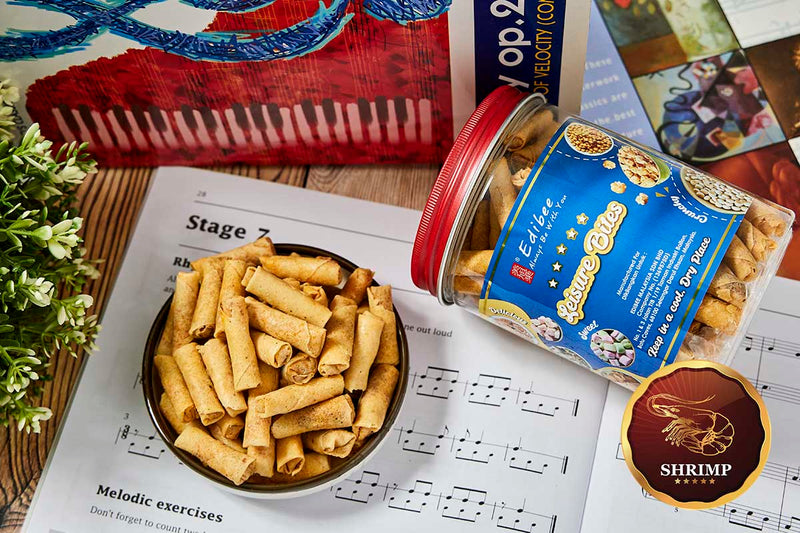 About This Product/Tentang Produk Ini:
A lover of spring roll or 'popia' snacks? A chill favourite here at Edibee, this prawn floss-filled snack is crunchy and addictive. This snack goes beyond the festivities, a bite-sized gift for enjoyment during any occasion!
Gemarkan snek popia? Salah satu snek kegemaran kami di Edibee kerana kerangupannya, kerepek popia perisa udang ini memang santai, tapi membuatkan anda nak lagi. Enak dimakan walaupun bukan waktu perayaan - bila-bila pun boleh!

Country of Origin/Negara Asal: Malaysia

Storage Information/Maklumat Penyimpanan:
Keep in dry place. Avoid exposure to sunlight or excessive heat. Avoid reach of children.
Simpan di tempat yang kering. Elakkan daripada cahaya matahari atau panas berlebihan. Jauhkan dari kanak-kanak.
Ingredients/Ramuan:
Spring Roll Pastry, Dried Prawn, Sugar, Breadcrumbs, Chilli Powder, Garlic, Fried Onion, Salt, MSG, Pepper Powder, Oil.

Pastri Popia, Udang Kering, Gula, Serbuk Roti, Serbuk Cili, Bawang Putih, Bawang Goreng, Garam, MSG, Lada Hitam.