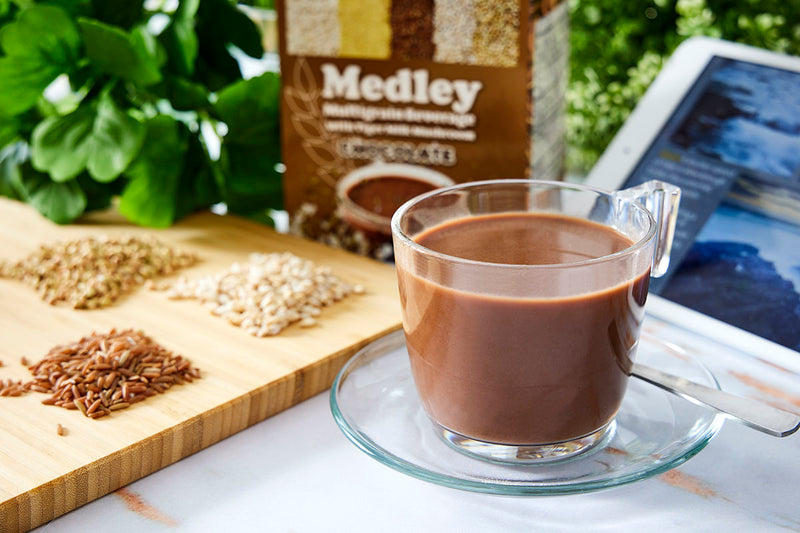 About This Product:
At Edibee, we want nothing but the best for you. That's why Medley Multigrain Beverage is here in two equally yummy flavours, Vanilla (with isolated soy protein) and Chocolate (with tiger milk mushroom) each equipped with 20 glorious grains! With brown rice, gorgon, millet, oat bran and more, Medley boasts a variety of benefits, all from promoting brain to digestive health. Drink up the calcium, fibre and vitamins!
Country of Origin: Malaysia
Storage Information:
Keep in dry place. Avoid exposure to sunlight or excessive heat. Avoid reach of children.
Ingredients:
Multigrain Powder (Brown Rice, Oat, Buckwheat, Black Glutinous Rice, Wheat Germ, Red Brown Rice, Barley, Wild Purple Rice, Calrose Rice, Japanese Pearls Brown Rice, Oat Germ, Sorghum, Black Sesame Seed, Oat Bran, Glutinous Rice, Gorgon, Calcium Rice, Millet, Green Millet, Rice), Cocoa Powder, Soluble Corn Fibre (Promitor), Isolated Soy Protein, Tiger Milk Mushroom, Black ear Mushroom, Sucralose.